Today started off much like yesterday. I slept late, took Scruffy for a walk, made some coffee and turned on my computer. I checked my email, read the news, fed the animals and had my coffee. Around 11, the phone rang. It was my friend, Marylee, asking me if I was busy. She got a call about a stranded seal on the beach in Longport. I told her I would be glad to check it out. I quickly pulled on my snow boats, coat, and hat, grabbed my camera and ran out the door.
When I arrived, a Longport police officer was already there.  I told him my name and said I was a volunteer for the Marine Mammal Stranding Center in Brigantine, NJ. He told me what he knew about the seal and I quickly trudged down the snowy beach.
As I neared the seal, my heart started to  pound. I had never seen a seal up close before! What if it is hurt or ill? What if s/he  is bleeding? All these questions raced through my mind. But as I got closer, my fears started to disappear. This was a harbor seal, an adult, and a healthy one. It was resting, lying slightly on its side, its head raised and its rear flippers raised. A perfect 'banana'. It was a harbor seal, dark brown fur or pelage on its belly, lighter brownish gray fur on its back. And the one thing that let me know that it was a harbor seal–a heart shaped nose!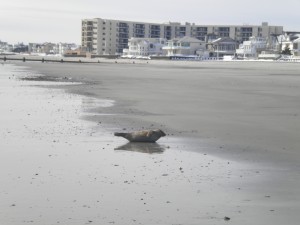 I took some photos of the seal with my camera and phone, then watched the seal for about an hour. During that time I spoke to a few folks who were curious to see what was resting on the beach.  As I was speaking to a woman, I heard a strange 'slapping' sound and was glad to see the seal wiggle like a caterpillar back into the surf and quickly swim away. S/he had their rest and was off to the depths of the Atlantic!
My phone rang as I sat in my car, thawing out my frozen fingers and toes. It was Jay from the Marine Mammal Stranding Center. "Are you still in Longport, Mary?" he inquired. "Yes, I am." I replied.  "Well, there has been another seal sighting on 24th Street. Would you mind checking it out?" Jay asked. "Not at all!" came my excited reply.
I turned my car around and headed to 24th Street,  just 8 blocks away from where the first seal was located.  Is it the same seal that I just saw or was this another? If it's another, is this one injured? As I hurried down the beach, I noticed right away this was another harbor seal and another healthy one! What luck–two seals on one day!
 If you click on the picture above, you can see that this seal was very sleepy! 🙂
I spent another hour or more observing this little guy to make sure s/he was okay. I took pictures and videos and emailed them to the MMSC. This seal also seemed to have 'hauled out' to take a short rest and to warm up.
After watching him rest, I became very cold and decided to head home. I knew my little dog was home waiting for my return. I smiled as I left the beach, happy because I had the rare opportunity to witness one of God's beautiful marine mammals, not once, but TWICE in one day!
If you would like to learn more about harbor seals and other marine mammals, please visit the links below: