June 10th was the day. I awoke to overcast and foggy skies. Please don't rain again. Please don't rain. We were rained out twice on the Corson's Inlet trip and the kids were so disappointed. So was I. Please don't rain. I chanted this mantra under my breath as Scruffy and I walked our morning walk of the neighborhood.
Nedgie called me on my cell phone. "Are we going to the Refuge? It looks like rain."
"Yes, of course we are going."  I replied. "It's just fog. It will burn off." I say this trying to convince myself.
Well, it doesn't rain as we board the bus. Everyone looks happy. Smiling. Our bus driver Sharon is very nice and says she enjoys going to the Refuge. It is going to be a great day.
We get to the Refuge, get off the bus and prepare for the day by tucking our pants into our socks and spraying bug spray to keep the ticks away. Art, Colby and Channelle greet us and talk about the day. The kids looked sleepy but eager and excited. We break into groups of four or five. Some of us take measurements of the humidity and wind speed. Others measure the temperature of the air and soil. Some of us record the plants, shrubs and trees in each habitat. My group looks for signs of animals. We visit the forest, field and pond habitats. What a great morning!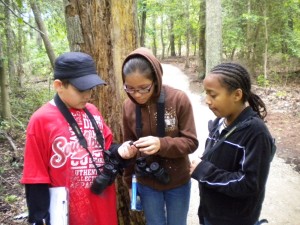 Dariel, Destiny and Princess making observations…
Ameena, Kell and the Twins birding at Gull Tower Pond. Arielle, Alex and Axavier use nets to find nymphs and other insects in the pond.
We have our lunches on the picnic tables on Aker's Trail. The kids sit and munch on peanut butter and jelly, egg salad and Wawa subs, apples, bananas and oranges, peanuts and granola bars.
The rest of the afternoon is spent birding. Colby gives the kids these new field guides that show all the birds, plants, mammals, etc. that can be found in the Refuge.  Adam spots a bird–"Look! A great egret, Ms. Lenahan!" You can hear the excitement in his voice. Next we spot terns, laughing gulls, black-backed gulls, red-winged blackbirds, snowy egrets. Art shows everyone the peregrine falcon nest through the scope.  Axavier gets so excited to see his favorite bird perched on the side of the platform. Carmelita and Mitchaida join the other kids at the top of the tower. Princess and Elijah use their binoculars to spot brant and my favorite, black skimmers! It doesn't get any better than this!
We all had a great time AT THE REFUGE.
Alex, Mitchaida, Romia and Arielle birding on the tower. Aleesha observing the turtle eggs that were eaten by a predator. What kind of mammal do you think preyed on the eggs?