John and I spent a lovely Sunday afternoon at one of my favorite places, Corson's Inlet State Park. The weather was next to perfect, not too hot, not too cool with just enough breeze to keep the gnats away. John was armed with his camera, I with my binoculars and my trusted canine companion, Scruffulous F. Dogg.
As we packed our equipment, drinks and water bowl for Scruffy into our bag, I knew it was going to be a special day. Corson's Inlet State Park is a natural beach located at the far southern end of Ocean City, New Jersey. Corson's Inlet was established in 1969 to protect and preserve one of the last undeveloped tracts of land along New Jersey's oceanfront. Here you can see terns, black skimmers, American oystercatchers, fiddler crabs, ghost crabs, all kinds of shellfish, many native plants, shrubs and trees.
We were lucky enough to see some colorful spring 'visitors' as we explored the inlet! Red admirals, painted ladies and American ladies were flitting around on the black cherry trees that were flourishing in the dunes. As John snapped photos of these colorful Lepidoptera, I scanned the trees in the dunes with my specs. What was that flash of yellow?  Is it a warbler? What kind? Why can't it stay still for more than a split second? Oh, wait, there is another one! And another!  What are they eating in the cherry trees? Is that a caterpillar? Cool! John, quick, take another photo! What a great afternoon!
As we waded back along the water's edge, the terns and gulls calling overhead, the waves lapping at our feet, the stress finally left my body through the tips of my toes and drifted away on the salty waves.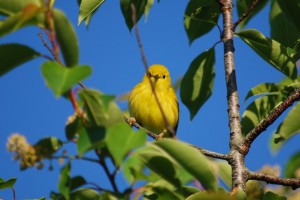 All phantastic photographs were taken by my honey, John.
When leaving comments, please tell him how good his pictures are!